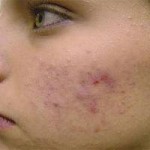 Whether you choose to call it acne, zits, pimples or spots, know that you're not alone. Over 80% of teenagers will experience an outbreak of pimples at some point, which means science and reason have worked overtime to devise ways to treat them as quickly as possible. Before discussing about the tips on how to remove pimples, we will see how the pimples are formed.
How pimples are formed?
When oil or dead skin cells clog up the opening of hair follicles we get pimples. The follicles generate natural oils that keep our skin moisturized and healthy. And when these follicles get blocked, oil produced remains totally closed off. This blockage causes irritation and infection. And finally you get a face full of pimples. And once it starts it is rather difficulty to stop them. To attain instant relief from such skin malaise you can follow the below stated rules to get the answer of how to remove pimples?
How to remove Pimples: Easy steps
1. Cleaning:
Wash your face at least twice a day with a mild face wash preferably with micro granules and lukewarm water.
Select your face wash according to your skin type.
Don't go for fancy and colorful soaps.
Try to use soaps or face washes that contain neem oil along with other antiseptic components.
You can go for vapor treatment at least twice a week. Vapor helps open the skin pores to get the oil out of the blocked follicle.
Use antiseptic soap or cleanser.
2. Creams and lotions:
Aloe Vera gel is useful for a pimple prone skin. Aloe Vera helps lessen scar marks and gives you a pimple free and fresh skin. There are many branded companies who manufacture good Aloe Vera gel. Choose one manufactured by a reputed company.
When you have a pimple prone skin it's always wise to consult a skin specialist before you choose and cosmetic or medicinal products. Go as per the prescription given to you and get a cream or lotion perfect for your skin type.
3. Home made Face packs and natural remedies:
Home made face packs work wonder with its natural ingredients. Make a pack by mixing pure turmeric and milk. This pack is excellent for this purpose as turmeric has antiseptic agents that fight the bacteria which causes pimple.
Mix up dried and powdered orange peel with plain water and apply on your entire face. This is actually a great face pack for your pimple prone skin.
Make a paste by mixing honey and cinnamon. Apply the paste all over your face at night. Let it work properly through out the night and wash it off the next morning.
Neem has natural antiviral agents that are great to remove acne from your skin. Make a paste with neem leaves and apply it on your face once in a week to get a clear skin without pimples.
Lemon assures an excellent treatment for your pimple affected skin. Take a cotton pad and soak it with lemon water and then dab it on the affected areas.
Wash off the face packs within 15 to 20 minutes.
4. Healthy and stress free lifestyle:
Drink a lot of water to keep your skin hydrated. This will prevent pimples occurrence. Water enhances the wound-healing-ability of your body by increasing the blood circulation. Drink at least 7- 8 glasses of water everyday.
Maintaining a healthy diet is must.
Avoid junk foods.
Stay away from poultry products.
Avoid foods rich in oil, butter, cheese, mayonnaise and spices.
Eat a lot of fruits and green vegetables. It helps to generate new cells.
Green vegetable salads are good for your skin.
Instead of oily foods you can take dry fruits for brunch.
5. Medication:
When you think of how to remove pimples, the first thing you may think of is to take antibiotics and steroids. But this is a wrong decision indeed. Antibiotics destroy the bad bacteria obviously but at the same time it also kills the good bacteria that are essential for digestion.
Consult a doctor and seek advice. Take the medicines that your dermatologist has prescribed you with effective supplements.
Got a week for the special occasion? Do not worry then! These are the solutions of how to remove pimples. And if you are determinate to remove it in one week then how to remove pimples is always there for you. Several sufferers have shared their experiences and causes of pimples here. These people testify that this article helped them to get instant relief from severe acute skin problems. Read through holistic systemized cures for skin problems here and get to know your skin better.